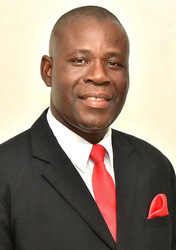 Pastor Adrian Johnson (September 1, 2018 - Present)
Pastor Adrian Lloyd Johnson has been the Senior Pastor of the Andrews Memorial Seventh-day Adventist Church since 2018. A native of the parish of St. Thomas, he started his career in the private sector, but answered the call to ministry in 1993.  He attended the Northern Caribbean University where he attained a Bachelor of Arts in Religion & Theology and later a Masters in Pastoral Theology.
Pastor Johnson identifies two passions - prayer and family.  He continues to intercede for the church family and the community.  His love for family is evident in his interactions. He is a husband of 25 years and father of three.  He has also taken both passions to his role as a Station Pastor to the Jamaica Constabulary force and a Marriage Officer.
Outside of his ministry, Pastor Johnson is an avid reader who is intrigued by creative writing and social affairs.  Among his hobbies are playing football, playing the guitar and having engaging discussions on topical issues.
Pastor Johnson is a prayer warrior.  He has issued an open invitation to pray for anyone who desires.  Why not take him up on his offer today?